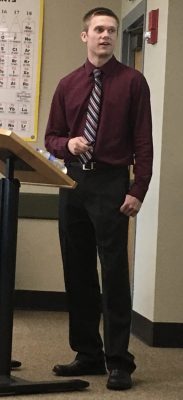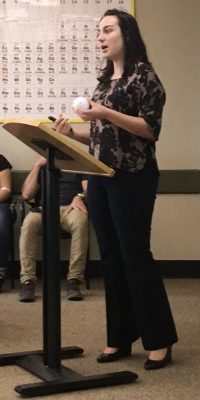 On Wednesday, July 31, 2019, Nathan Forney and Allison Zupan presented the work they have been doing through the Summer of 2019 in the Pinkhassik Lab at the NSF-REU and Summer Research Symposium in the Department of Chemistry at the University of Connecticut.  Throughout the day, a total of 14 undergraduate student researchers gave 15-minute research talks.  The researchers came from 11 different research labs in the department.  On Thursday, August 1, 2019, Forney also presented his work in a poster presentation that included all undergraduate researchers across the UConn campus.
Nathan Forney is a rising senior at Otterbein University in Ohio.  For the Summer of 2019, he was supported by a National Science Foundation Research Experience for Undergraduates (NSF-REU) award he won through the Department of Chemistry at UConn.  This included not only 10-weeks of support to work in the Pinkhassik Lab, but also included a series of professional development seminars and workshops, and opportunities to interact with multiple professors, graduate students, and other undergraduate researchers throughout the department.  His talk was titled "Functionalized Nanocapsules Made Easily Dispersable in Water."
Allison Zupan is a rising junior at UConn.  She has been working in the Pinkhassik Lab since Fall of 2018.  For the Summer of 2019, she was supported to do research in the Pinkhassik Lab by the American Chemical Society-Connecticut Valley local Section (ACS-CVS) via the Summer Undergraduate Research Fund (SURF) award.  She will continue her projects in the Pinkhassik Lab in the Fall semester.  Her talk was titled "Controlling Switchable Catalysts with Through-Shell Communication."
To learn more about Nathan Forney, click here.
To learn more about Allison Zupan, click here.
To learn more about the UConn Department of Chemistry NSF-REU program, click here.
To learn more about the ACS-CVS SURF Award program, click here.
---